USETDA 2018
USETDA 2018 Conference
Climbing Ever Higher – Summit on Scholarly Communications in Graduate Education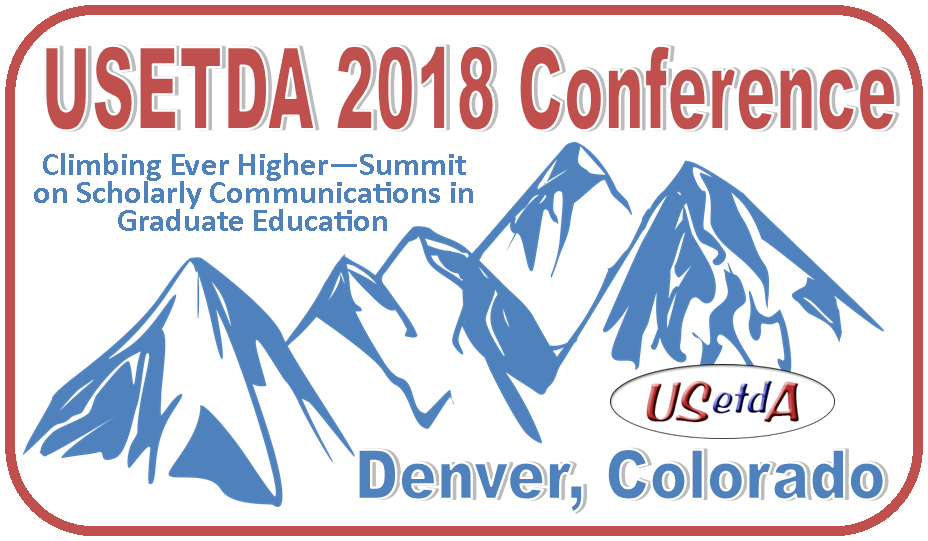 The USETDA has announced USETDA 2018, the 8th annual conference to be held September 12th – 14th in Denver, Colorado, hosted by the Auraria Library and Brigham Young University.
USETDA 2018 is for ETD professionals from graduate schools, libraries, academic computing and others who work with ETDs. Our goal is to offer relevant, practice-oriented content to support ETD productivity improvement, ETD professionals, advance ETD operations, and encourage the formation of state-wide ETD associations in the United States.
Complete conference information is available by following the resource links at the top of this Web page or in the right side-bar index.
Forthcoming Resources
Call for Proposals
Conference Program – (PDF)
Conference Invitation
Conference Proceedings
Dine Arounds
Hotel Accommodations
Registration Information
Sponsors
Sponsorship
Welcome to Denver
Welcome to USETDA 2018
Workshops
USETDA 2018 Conference Planning Committee
Scott Eldredge (Brigham Young University Library)
Sally Evans (George Mason University Library)*
John Hagen (Renaissance Scholarly Communications, USETDA Executive Director)*^
Lou Haines, (Miami University Graduate School)*
Matt Mariner, Conference Chair (Auraria Library, Denver, CO)*^
Angela McCutcheon (USETDA Ex-Officio Board member)*
Robert Parker (University of Florida Graduate School)*
Janice Robinson (Brigham Young University Graduate School)
Christy Shorey (University of Florida Libraries)*^
Stacy Wallace (University of Florida Graduate School)*
*USETDA Board Member
^Program Committee Member
Local Organizing Committee Members
Matt Mariner, Conference Chair (Auraria Library, Denver, CO)
Information about Denver