Conference Invitation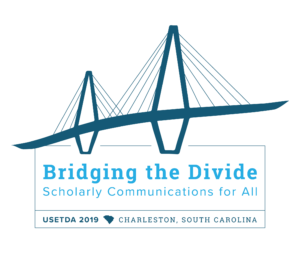 The US Electronic Thesis and Dissertation Association (USETDA) will hold their 9th annual conference September 25th – 27th at the Hyatt Place/Hyatt House Hotel in Charleston, South Carolina, hosted by BiblioLabs and The University of South Carolina. USETDA Conferences are an excellent educational opportunity for professionals from graduate schools, libraries, academic computing and others who work with electronic theses and dissertations (ETDs), graduate students and scholarly communications.
Registration is now open for the USETDA 2019 Conference. The early bird member registration rate of $169 is available through July 25, 2019 and the conference hotel group discount rate is $199 per night (includes breakfast). Complete registration information is available online.
The conference theme "Bridging the Divide – Scholarly Communications for All" will focus on the impact and implications of connecting scholars and research from across the country and around the world. We will examine the present use and availability of ETDs and related initiatives while also exploring new and emerging ETD practices, needs, and influences impacting administrative, graduate school and library professionals.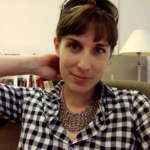 This year's program includes keynote speaker Sarah E. Bond, PhD, (Associate Professor of Classics, University of Iowa).
Sarah E. Bond is associate professor of Classics at the University of Iowa. Her research interests include late Roman history, epigraphy, late antique law, Roman topography and GIS, Digital Humanities, and the socio-legal experience of ancient marginal peoples. As a historian, digital humanist, and champion of public scholarship, she is a prolific and regular blogger and online contributor to Forbes magazine and the art blog Hyperallergic, but has also contributed to the New York Times, Sports Illustrated for Kids, and Eidolon. Her digital humanities collaborations include the Women of Ancient History project and the Pleiades Project.  You can follow her on twitter at @SarahEBond. 
Public scholarship broadens the reach and impact of academic discourse and is a valuable skill for graduate students to acquire. In her keynote address for "Bridging the Divide – Scholarly Communications for All", Professor Bond will examine the ways in which digital and public scholarship test notions of inclusivity and access within and outside of the academy.  How are new forms and a focus on public scholarship remolding how we view the ideal of the public intellectual?
Program Highlights
The conference program includes 3 workshops, 17 one-hour breakout presentations including user group meetings, 6 brief breakout presentations, 2 plenary sessions, a poster presentation session, a technology vendor fair as well as a variety of networking opportunities and local tours. For an overview of the activities visit our Conference at-a-glance program schedule.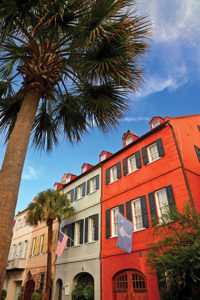 Before, during and after the conference you can enjoy and experience the many sides of Charleston.
Don't miss out on this unique opportunity to learn more and share your experiences with colleagues at USETDA 2019! To register visit our registration information Web page.
We hope to see you in Charleston at USETDA 2019.
Kind Regards,
USETDA Conference Organizing Committee