Registration Information
USETDA 2018 – Registration Information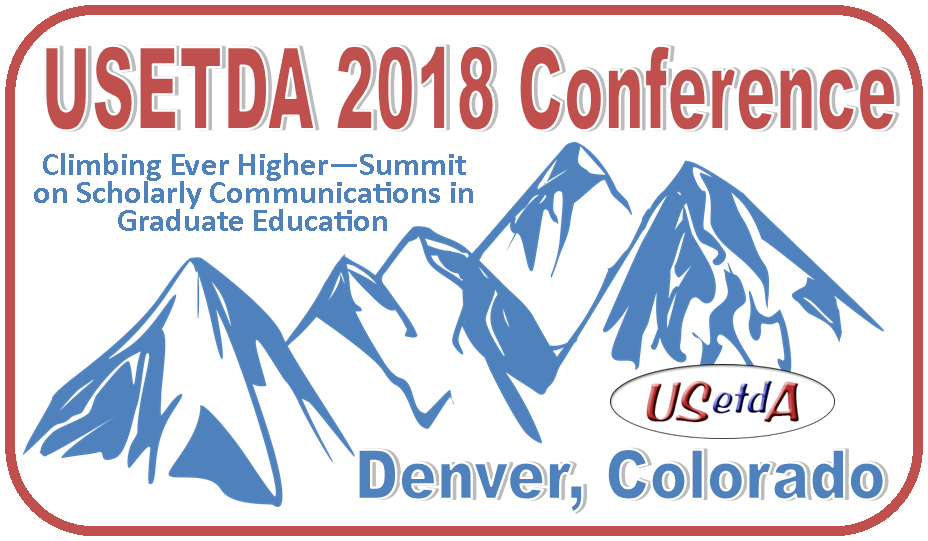 The USETDA will hold their 8th annual conference September 12 – 14, 2018 at the Embassy Suites Hotel in Denver, Colorado.
Please review the following information before registering. You will find our Registration Checklist and Rates Chart listed below.
Early Bird registration will be available April 16, 2018 through June 15, 2018 at the rate of $169 for members or $299 for non-members. Regular registration (at higher cost) will remain open from June 16th through August 24th.  To register follow the registration checklist below.
Membership: USETDA members receive a considerable conference registration discount over non-member rates to attend the annual conference. Institutional, Association and Consortium membership provides the discount registration rate to all persons at the member institution, association or consortium. Individual membership is intended for individuals independent of organizations or for use where your institution may not yet offer or support an ETD program. Complete information is available on our membership Web page.
Conference Workshops: We are also pleased to offer intensive learning experiences through our conference workshop series. For complete descriptions visit the conference workshops Web page.
Program: Visit the Conference Program Overview Web page.

Registration Checklist
1. Check the status of your USETDA membership for registration discount eligibility
2. Review the USETDA Conference Rates Chart (below) to confirm applicable fees
3. Complete the Online Registration Form and pay fees
4. Reserve your Hotel Lodging online to receive the discount conference rate at the Embassy Suites Hotel of $209 per night (rate includes complimentary cooked to order breakfast and guest room WiFi access). Hotel reservation and payment is separate from the above conference registration process.
USETDA Conference Registration and Membership Rates Chart
| | | |
| --- | --- | --- |
| Rates Chart 2018 | | |
| | | |
| Membership Enrollment Fee (Annual) | | |
| Institutional | $100 | |
| ETD Association (covers multiple institutions)* | $75 | *Per member institution plus $100 base fee |
| Library Consortium (covers multiple institutions)* | $85 | *Per member institution plus $100 base fee |
| Individual | $50 | Intended for individuals independent of organizations or for use where your institution may not yet offer or support an ETD program. |
| | | |
| Registration Options | | |
| Early member registration (through June 15, 2018) | $169 | |
| Early non–member registration (through June 15, 2018) | $299 | |
| Regular member registration (June 16 – August 24, 2018) | $269 | |
| Regular non-member registration (June 16 – August 24, 2018) | $399 | |
| Related Conference Event Fee (if applicable) | | |
| Workshops | $0 |  Workshop descriptions |
| | | |
| Welcome Reception Guest (only if bringing guest) | $50 | |
| | | *Contact USETDA for multi-institutional arrangements. |