Welcome to ETD2017

The NDLTD and USETDA Boards of Directors and the Conference Organizing Committee welcome you to the ETD2017 Symposium. We look forward to meeting everyone at the Embassy Suites Hotel for the 20th international symposium on electronic theses and dissertations. We have many exciting activities planned for ETD2017 delegates to make the most of their learning and sharing experiences at the conference.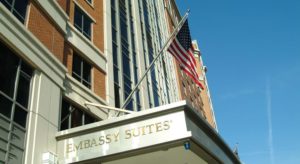 You will find complete information about the conference on the ETD2017 Web page. Program highlights are provided on the Program Overview Web page.
Registration details are available on our Registration Web page. Ahead of arrival, you can confirm your hotel reservations by visiting the Accommodation Web page. To arrange for transit from the airport to the hotel and locally visit our Travel Information Web page.  For local information about Washington DC and the region and to sign up for a group tour visit our Welcome to Washington DC Web page.
The conference program is available online. Copies of presentations will be available in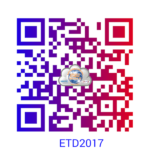 the Conference Proceedings by conference time. For quick reference to the program, visit the at-a-glance program schedule.
Conference Schedule Highlights
All events will take place at the Embassy Suites Hotel
Monday, August 7th
The registration desk will open (8:00 am – 4:00 pm, Capital Foyer). Be sure to stop by to check-in and to pick up your conference registration materials.
Pre and post conference workshops will be offered free of charge. You can confirm your enrollment or enroll for a workshop at the registration desk.
Workshops 9:00 am – 12:00 pm
Welcome luncheon (12:00 pm, Capital A) – ETD Awards Presentation Ceremony
Opening plenary session – 3 Minute Thesis Competition
Breakout sessions
Welcome reception (5:30 – 7:30 pm, K Street Atrium) – cocktails and hors d'oeuvres
Tuesday, August 8th
Networking breakfast (8:00 – 9:15 am, Capital A). Tables will have assigned topics and regions – you can pick your favorite group to sit and chat with while you eat. Make new friends, explore new topics, share your expertise and learn more from colleagues.
Keynote presentation by Clifford Lynch (CNI)
Breakout sessions
Plenary luncheon (12:00 pm, Capital A) – sponsored by Glasstree Academic Publishing
Breakout sessions
Technology vendor fair and poster session – Celebrate the 20th anniversary of the NDLTD – Visit with conference sponsors to learn more about library products/services; chat with poster presenters to learn about their case studies and ETD/IR services – snacks and beverages will be provided
User Group Meetings
NDLTD committee meetings – conference attendees are invited to attend – learn how to get involved in community activities, volunteer, provide feedback
Dine Around (6:00 pm) – We will gather for Dine-Arounds to explore the culinary delights of nearby Washington, DC (dinner is on your own in organized groups) – sign up for the Dine-Around at the Conference Registration Desk.
Wednesday, August 9th
Workshop and breakout sessions 9:00 am – 12:00 pm
Closing plenary session (12:15 pm) – 2018 ETD conference announcements, raffle drawing for door prizes
Should you have any questions, please feel free to contact us at the registration information desk or email us at info@usetda.org.
We hope you enjoy your experience at ETD2017 in Washington, DC!
Don't forget to share your experiences, comments and photos via social media…