ETD Awards
Jagdish Arora and Manoj Kumar win ETD Leadership Award
The NDLTD is pleased to announce that Dr. Jagdish Arora and Mr. Manoj Kumar won the ETD Leadership Award for their dedicated work on the Shodhganga thesis repository in India. Their … 
Howard Earl Fields wins Innovative ETD Award
Howard Earl Fields III, Ph.D. Education (2017) / University of Missouri-St. Louis. Howard Fields' written dissertation was accompanied by a documentary, which was titled, "The Art of the Student …
---
The NDLTD is pleased to announce the 2017 ETD Awards program.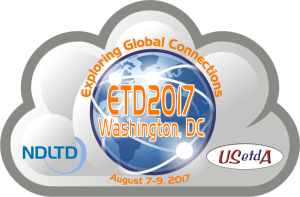 We invite all NDLTD members to nominate individuals they feel deserve the recognition!
Deadline for Nominations: May 31st, 2017
The NDLTD's ETD Awards recognize and support innovative theses and dissertations and leadership within the ETD community. These awards are presented each year at the annual ETD Symposium.
The awards include several categories of appreciation:
The Innovative ETD Award supports student efforts to transform the genre of the dissertation through the use of innovative research data management techniques and software to create multimedia ETDs.
The ETD Leadership Award recognizes individuals whose leadership and vision has helped raise awareness of the benefits of open access ETDs and whose efforts have improved graduate education and research through the use of technology.
The awards will be presented at ETD2017, the 20th International Symposium on Electronic Theses and Dissertations, Washington, DC August 7-9, 2017.